Thanks to Sarah Peters, a local Audaxer, who deciphers the cycling and French lingo for Bewdley Bike Week to explain.
Cycling comes in many forms and disciplines. We often learn to ride as a child without the knowledge of mountain biking, backpacking, touring, road cycling, 4x, BMX, downhill racing, velodrome racing and XC because all we aim to do is ride up and down a local road or in a park to have fun on two wheels with our friends and family.
Despite the extensive variety in cycling disciplines and the requirement of differing skills, each discipline has one element in common and that is a good level of fitness. There are lots of ways to gain cycling fitness, and one way is to ride regularly with two medium-length rides in the week and a longer ride at weekends. This allows the body to adapt over time without maximum effort all the time. As you get fitter, your legs start getting stronger and before you know it you start riding longer rides, but they can get a bit boring on your own.
So if you are looking to gain fitness without the pain of huffing and puffing up hills only to collapse at the top so your lungs can recover, why not have a go at Audaxing?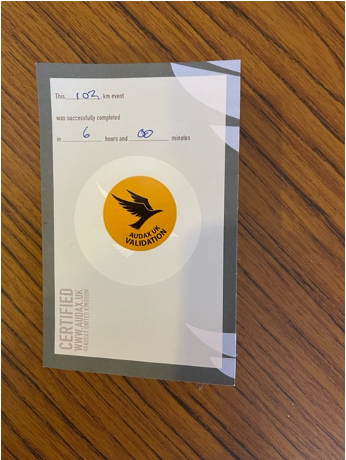 Audax is another cycling discipline in which the rider attempts to cycle long distances within a set time limit. It is a non-competitive sport which you can ride solo or with friends. The only requisite is that you have a roadworthy bike which can be anything from a two-wheel version we are all familiar with including tandems, trikes, recumbents and elliptigos. E-bikes are currently not allowed.
The emphasis is on self-sufficiency which means if you are unable to fix a mechanical issue on your bike and cannot continue to finish the ride, you will need to find your own way home. Of course, as your bike is well serviced, you ride with a friend or another Audaxer helps you, then you'll be just fine. If you are just starting out, have a practice at home in changing your inner tube in case you get a puncture.
It is recommended that each rider carries the following essential items: 2 spare inner tubes, a puncture repair kit, 3 tyre levers, Allen keys, cable ties, a small spanner and a good pump capable of pumping up to 100psi. A waterproof coat for inclement weather and an extra layer to keep warm when you stop. For longer rides, good lighting is essential. A handlebar bag or a rear bag is very useful to carry extra items such as food and first aid kit, gloves, buffs, battery charging packs, and mobile phones to include essential items along with some money.
To enter an Audax, visit www.audax.uk where you will find a list of events, known as calendar events. You can enter without being a member to give Audaxing a go first for a small extra charge (which includes 3rd party insurance). In general, entry fees are very minimal and offer fantastic value.
The route is organised for you, however, it is not way-marked. You navigate it by way of a .gpx file or turn by turn written instructions. Along the way, you will have to go to set points called "controls" which are compulsory to visit and sometimes there are information controls (also compulsory) where a question has to be answered. The main controls are usually towns and cafes (on longer rides, village halls are often used) so that you can top yourself up with water and food to re-energise yourself to continue the ride.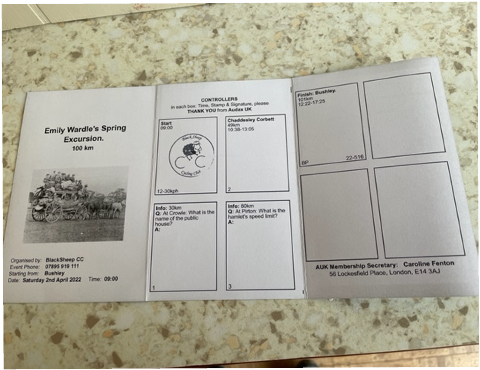 At the start, you are given a brevet card which is completed as you follow the route.
Do look at it before leaving the start so you know roughly where the controls are and if there are any questions to be answered on the way. The card also tells you the minimum and maximum time you have in order to pass through that particular point. At the finish (Arrivee), you hand it into the organiser who will check the details and validate the card as a successful ride. Some weeks later, the results appear on the Audax website.
---
Here is an example of a typical 100km Audax ride: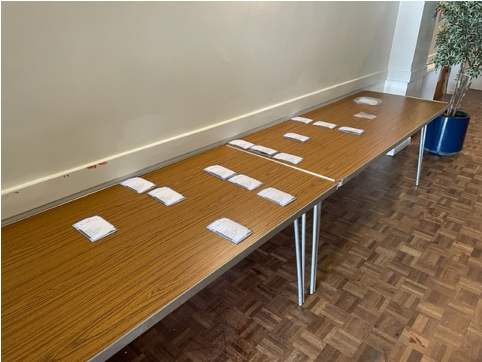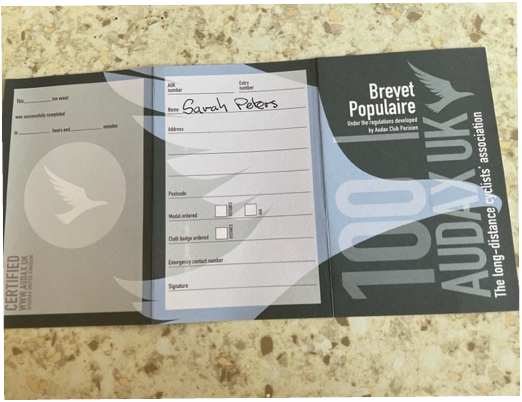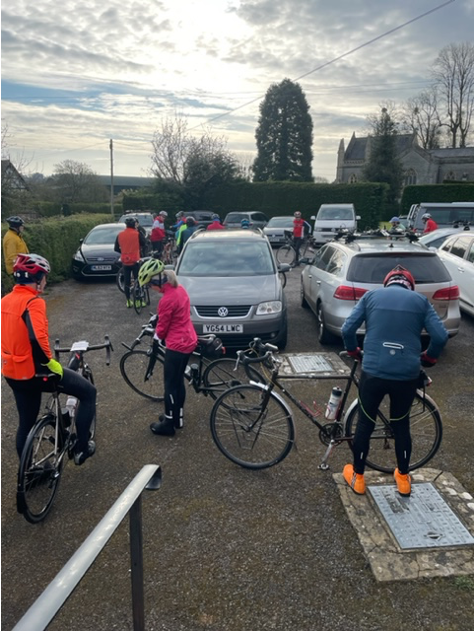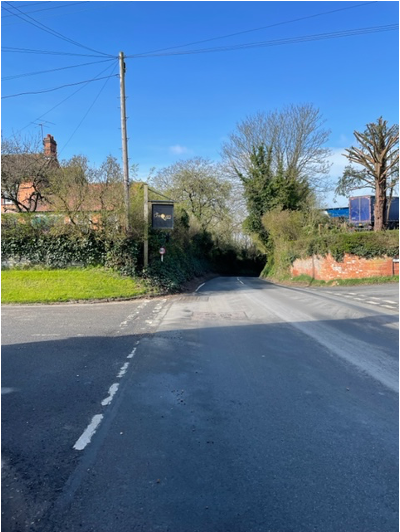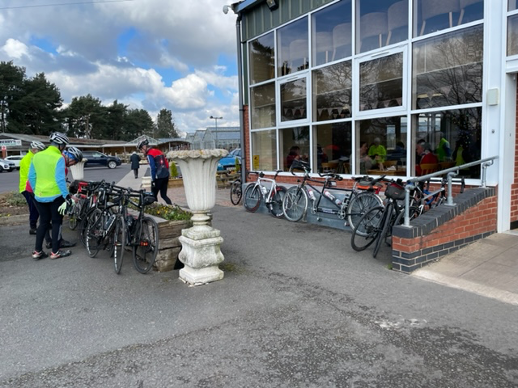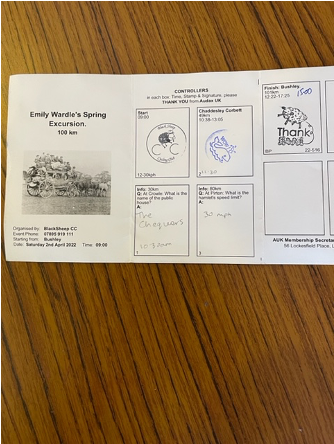 ---
Distances start at 50km and are typically 100km, 200km, 300km, 400km, 600km, 1000km, 1200km and 1500km.
200km is 125 miles so if you have always wanted to ride 100 miles, Audaxing will get you there with some effort on your part.
Audaxing is not a competitive sport and is not a race.  However, your success is recognised each time you complete a ride.  Not only do you have your validated brevet card, but you also receive an e-certificate, results are published on the Audax website as a permanent record and you are able to apply for badges for each distance achieved.  For those who are competitive, then have a look at www.audax.uk website where you can achieve annual awards and cups if you are that way inclined. 
Most importantly, just get out on your bike, enjoy your ride and have some fun.