Advice here from Clive Prince of Push Bikes!
Bikes for Children
Bikes often appear in letters to Santa, but as children grow so quickly it is often tempting for parents to buy a cheap one. Unfortunately, cheap bikes are poorly made and often as heavy as an adult bike. This means they don't last and are difficult for a child to learn and use. As a result, they often end up unused and rusting before being consigned to the tip.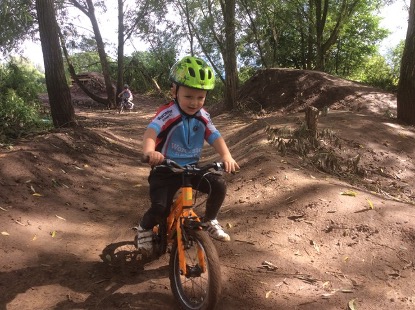 From the age of around three, there are several ways for your child to develop and gain confidence before going solo on two wheels. Trikes are a good way to get used to pedaling without having to learn to balance. Tag-alongs, attached to the back of an adult bike, are great when you want to take children along on a ride with you. Balance bikes, with no pedals, are however the best option to get your little one started as they help a child to learn how to balance and steer without having to worry about pedals and gears.
At some point however your child will need to learn how to cycle a 'proper' bike. Stabilisers are often attached to a child's first bike, but they can delay them learning how to balance the bike so, if used, gradually raise them off the ground as they get more confident.
The national cycling charity, Cycling UK, provide a useful guide to buying bikes for children https://www.cyclinguk.org/article/cycling-guide/right-size-bike-child but here is a quick summary of their top tips:
Buy a bike that fits your child now.
Make sure its not too heavy.
Suspension is dead weight and unnecessary.
More gears aren't better.
Semi-slick tyres make the bike easier to pedal.
Handlebars should be higher than the saddle.
Brakes should be easy to use.
Cheap bikes are a false economy.
Islabikes www.islabikes.co.uk and Frog Bikes www.frogbikes.com make some of the best children-specific bikes. Isla only supplies online and direct from their Ludlow premises. The main local stockist of Frog bikes is Worcester Cycle Centre (Hallow). Dirt Works (West Malvern) and Echelon (Pershore) are a couple of other local suppliers.
As children outgrow bikes so quickly it is often possible to purchase good quality second-hand bikes too. Ask other parents at your child's nursery or school and check out eBay, Gumtree, and adverts in the Worcester News.